Outstanding Craftsmanship. Made in the USA.
On the road, in the field or around the jobsite, your truck is crucial to helping you serve your customers. You deserve a reliable partner, one that increases your productivity and drives your business forward. Even though we don't believe success is manufactured, we've worked hard to design and build truck bodies that enable yours. Reading Truck puts you first by making work truck bodies that last. And we have decades of experience to back that up.
Innovative Truck Body Manufacturing
Since 1955, we've been putting our minds and hands to work to bring you the truck bodies you need. From our headquarters and main manufacturing facility in Reading, PA, to our Claremore, OK plant serving the East coast, we remain committed to meeting the needs of our customers and growing alongside you. No matter where you drive, when you see our name on the tailgate, you know the design, expertise, and craftsmanship behind it have stood the test of time so your work and legacy can too.
You've inspired each of our innovative "firsts" – first to standardize aluminum body offerings; first to enhance corrosion protection with a combined e-coat primer and powder coat finish; first to develop a truck body with remote keyless entry. But being first isn't what matters; it's building something that lasts.
Today we remain committed to innovation and quality, always engineering to meet the demands of our customers, the industry and tomorrow. Our attention to detail means your warranty-backed truck body is perfectly equipped with the storage, security features and functionality you need, plus the custom fabrications you want.
All of our products are proudly made in the USA using premium materials and advanced manufacturing techniques. You simply won't find a better truck body—or a better partner—anywhere.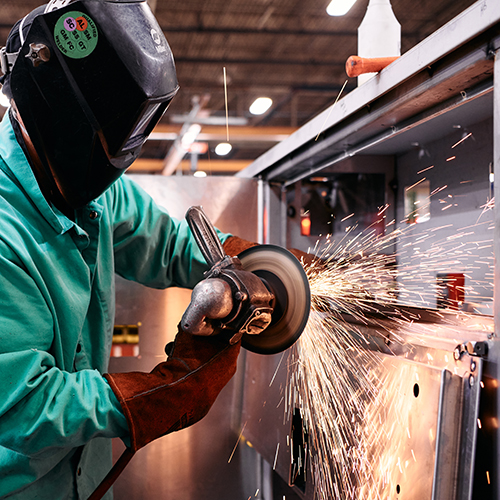 Building Better Bodies
Throughout our manufacturing facilities, our people, partners, processes and production are integrated to ensure every order – from one body to an entire fleet – meets our highest standards of excellence. Our products are built for durable, long-lasting performance capable of conquering the toughest conditions with complete confidence, enabling you to make a confident investment in your truck body.
What seems like a small victory on the manufacturing floor can make a big difference out on the jobsite. Features like extra strong double-panel doors, adjustable and replaceable internal hinges, and master locking to better protect valuables – these innovations set us apart and you up for success.
Our team is fueled by a relentless pursuit of solutions that make life easier and make the most of every workday. We take pride in putting our name on your tailgate, knowing the quality we put in adds quality to your life and business.
Where the rubber meets the road, no matter where those roads may lead, your Reading Truck body is built for anything.