Steel Enclosed Bodies for Van and Low Cab Forward Chassis – Ready Van SL

Enjoy a generous workspace with bright compartment lighting and ample weathertight outside storage. Made from long-lasting heavy duty galvannealed steel covered by an industry-leading 6 year warranty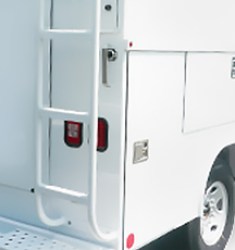 ACCESS LADDER
All-aluminum ladder provides access to roof-mounted ladder racks. Can be mounted curbside or roadside.
ALUMINUM LADDER RACK
Aluminum, three-bar roof-mounted overhead ladder rack, available for all enclosed body models.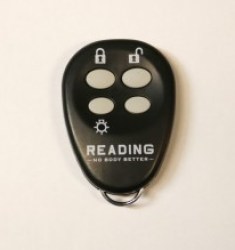 LATCH-MATIC® SYSTEM INTEGRATION WITH CHASSIS LOCKS
Parts are now available to integrate chassis' power locking systems with the Reading Latch-Matic® keyless entry system. When the Latch-Matic system is integrated to the chassis, the driver's OEM key fob, and door lock switches, will lock and unlock the service body as well as the chassis doors.
MASTER LOCKING STEEL SLIDE BAR
Create a secure seal on your service body compartment doors without sacrificing convenience, all with the snap of a single handle and padlock. The master locking steel slide bar simultaneously locks an entire compartment side to keep your tools and other equipment safe. The bar, which works independently of the Latch-Matic remote system, is spring-loaded for easy operation.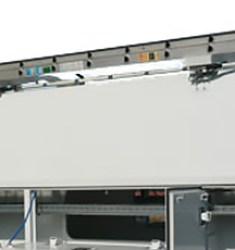 PULL-DOWN ASSIST LADDER RACK
Single or double pull-down assist ladder racks for either 57 or 75 models.
Pooched Bumper
Reading service and enclosed utility bodies are offered with a selection of 'pooched' bumpers that improve traction and give you sure-footed access to the cargo area. Bumpers are galvannealed steel for outstanding corrosion resistance, and available either straight, or with a center recess to provide easy access to a trailer hitch.
Galvanized Shelves
Designed for heavy-duty usage, galvanized shelves provide 2″ dividers for small item storage. Also available: full access between all vertical compartments for more extended tool storage.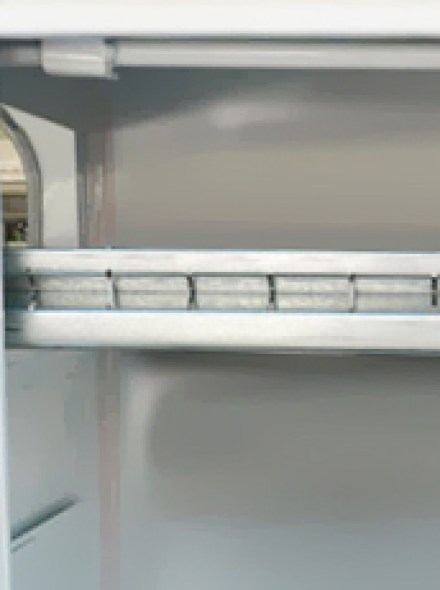 Galvannealed Steel Floor
Reading's signature A60 galvannealed steel, treadplate floor and inner tailgate surface provide additional corrosion protection and better traction.  Tailgate uses double wall construction for durability and longevity.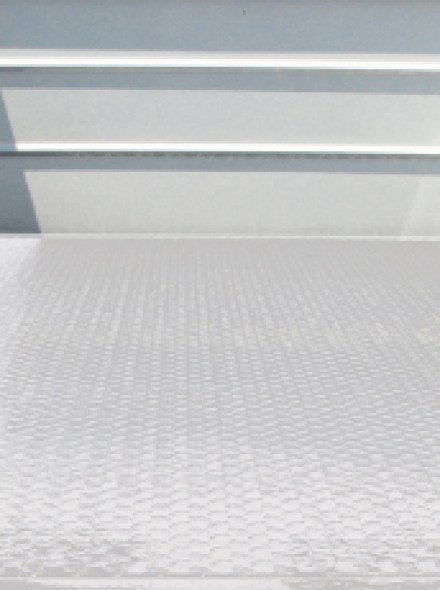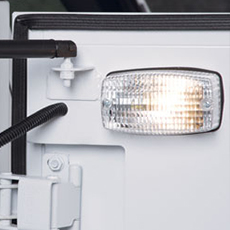 Compartment Lighting
Compartment lighting is automatically activated with Latch-Matic® keyless remote controller. Programmed to go off automatically after 10 minutes or when doors are locked. Lights feature impact-resistant polycarbonate lenses.
Aluma-Fill® Cup
An all-aluminum dish around the fuel cap protects the body from accidental nicks and scratches during refueling, and is more durable than typical plastic brackets.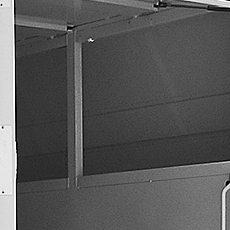 Internal Bracing
Two vertical braces inside the shelving area provide additional structural integrity and shelf support (on high-roof 72/75 models).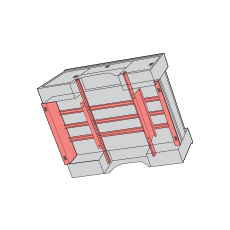 Undercoated Steel Understructure
Primed and powder coated steel understructure featuring fully unitized welding and U-beam girders braced and reinforced at all critical stress points.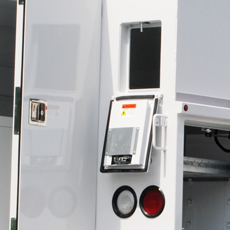 Rear Access Doors
Rear access doors make it easy to load and store long items like conduit or piping. The access doors are positioned so the tail lights remain visible when transporting longer material that requires access doors to be open.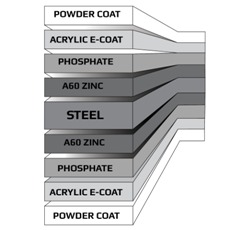 Triple-Protection Finish- Steel
Includes two sided A60 zinc coated galvannealed steel, acrylic E-Coat primer process and an abrasion resistant polyester powder coat finish for the most durable, corrosion-resistant finish available.