RM-45 Crane Body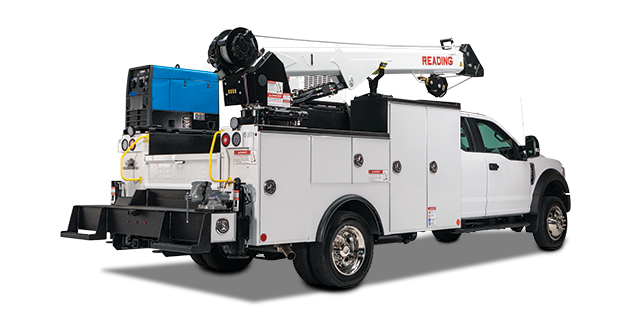 Our most innovative crane body helps you work with more safety and efficiency than ever. A torsion box understructure enables a powerful 45,000 pound-foot rating at 100% throughout the lifting zone.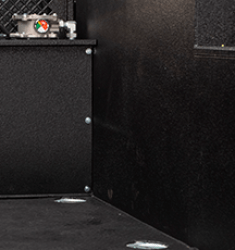 SPRAY-ON BEDLINER
Available as a factory-installed option. The liner provides durable, watertight and airtight truck bed protection. Prohibits rust, corrosion and surface abrasion while providing a slip-resistant surface for walking around on without fear of losing your footing.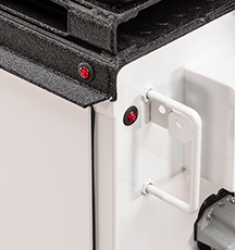 MASTERLOCKING
Create a secure seal on your service body compartment doors without sacrificing convenience, all with the snap of a single handle and padlock. The master locking steel slide bar simultaneously locks an entire compartment side to keep your tools and other equipment safe.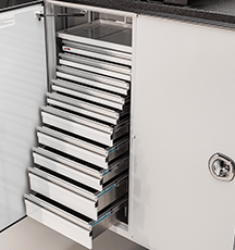 DRAWER SYSTEMS
Various popular options are available for installation in front vertical and horizontal compartments.
RM-45 CRANE BODY - 11' Body
| | | | | | | | | |
| --- | --- | --- | --- | --- | --- | --- | --- | --- |
| MODEL | A | B | C | D | APPROX. COMPARTMENT CLEAR DOOR OPENINGS | | | |
| | | | | | E | F | G | H |
| STANDARD | | | | | (front) | (2nd front) | (horizontal) | (rear) |
| 44" Roadside Height | 36" | 21" | 47" | 28" | 30-1/2"w x 36-1/2"h | 17-1/2"w x 36-1/2"h | 45-1/2"w x 15"h | 22-1/2"w x 36-1/2"h |
| 60" Curbside Front Raised Height | 36" | 21" | 47" | 28" | 30-1/2"w x 52-1/2"h | 17-1/2"w x 52-1/2"h | 45-1/2"w x 15"h | 22-1/2"w x 36-1/2"h |
The RM-45 Series is a 11' Crane Body built for a crane rating up to 8,000 lb. (45,000 ft/lb.) and a 84" cab-to-axle chassis.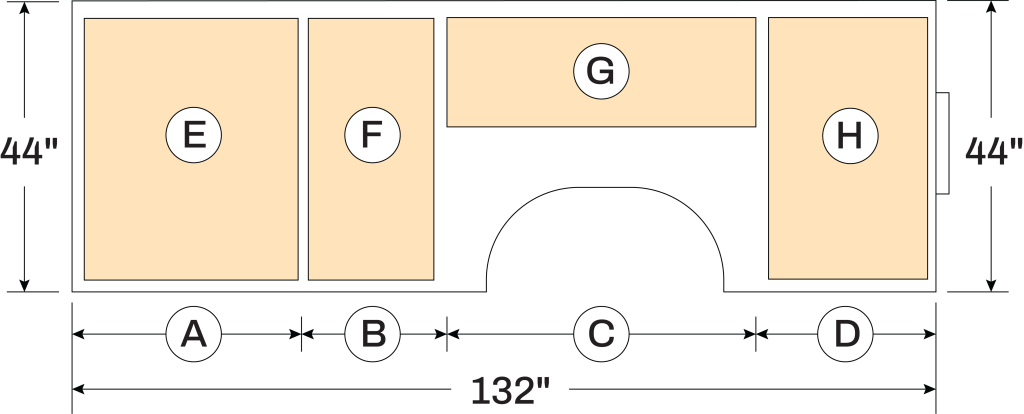 Roadside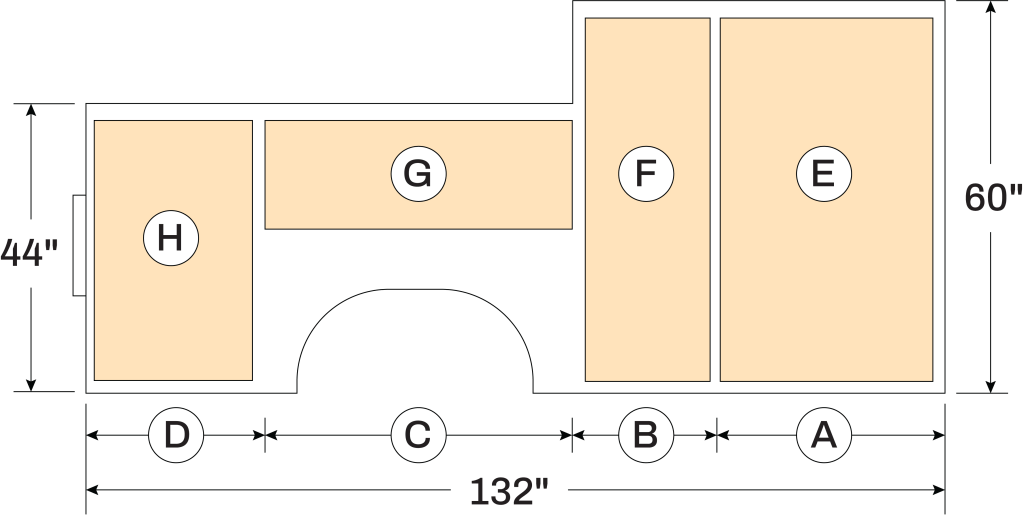 Curbside
Integrated Tie-downs
The tie-downs are fully integrated into the substructure of the body and flush with the cargo floor providing an unobstructed bed surface.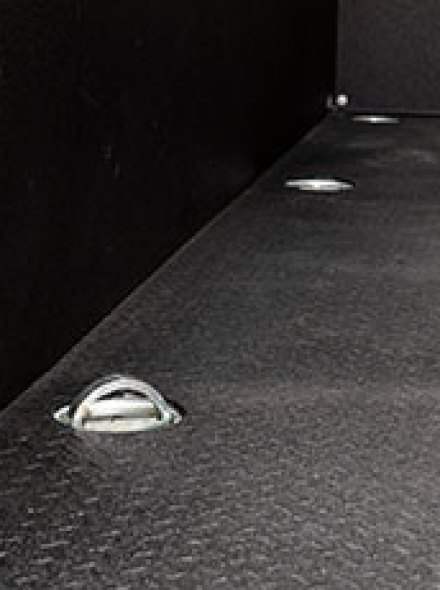 Secondary Bulkhead
Protects the hydraulic tank from cargo damage; designed to provide easy access to the tank when needed.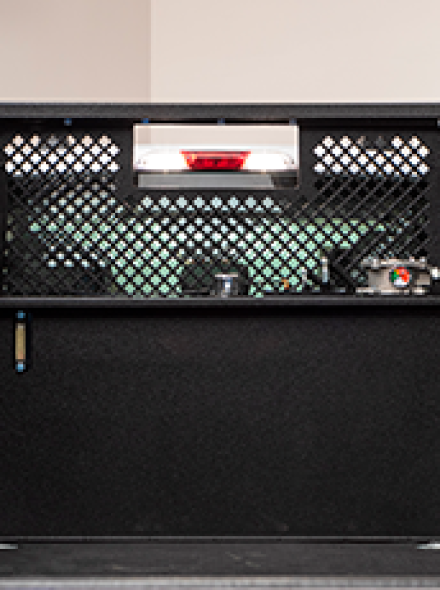 Tow Hitch
Body includes a structural trailer-tow hitch, designed, tested and rated to tow a 20,000 lb trailer, with 2.5″ hitch receiver. (Always observe GAWR, GVWR, GCWR and legal limits. Maximum vertical tongue load 2,000 lb.)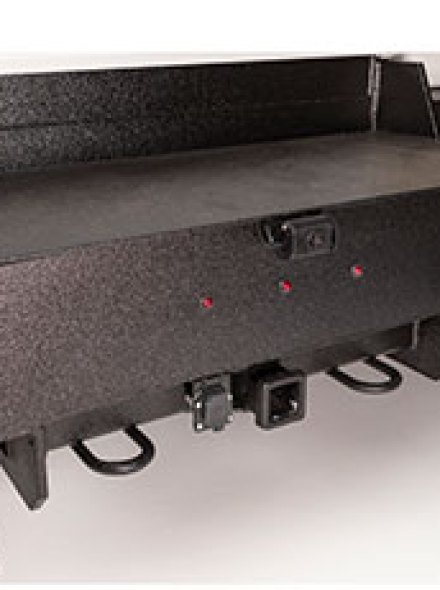 Workbench Bumper
The 21″ workbench bumper provides a generous workspace, with a 5/16″ riser vise plate to allow mounting a vise without drilling into the enclosed storage compartment.  The all-new design is shaped to integrate and protect the power stabilizers, and safeguard the chassis' rear view camera from damage. Permanently welded grip steps on both sides of the body provide easy access to the loadspace, with nothing to unfold.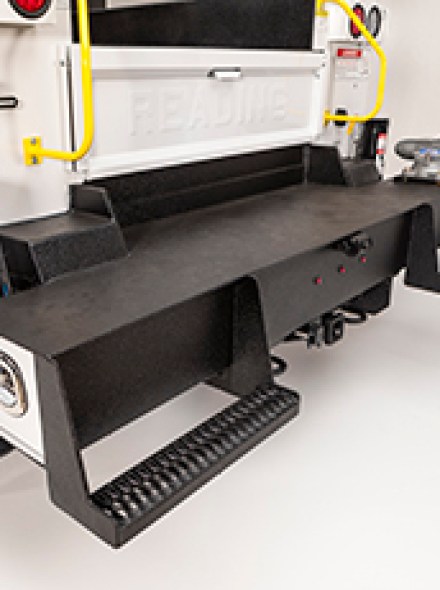 Compression Handle
Large compression handles are designed with ergonomics in mind, easy to operate with a gloved hand. The compression feature helps cinch the door tight during latching and secures the door in the closed position.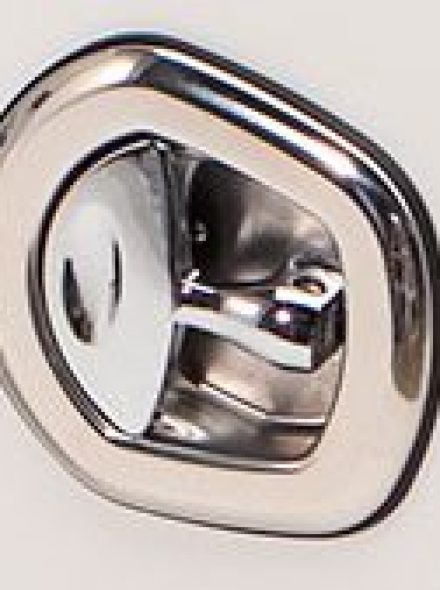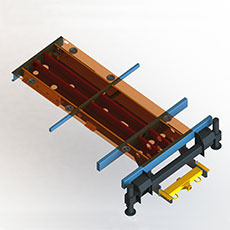 Torsion Box Understructure
The ultimate foundation for a strong-lifting, durable body. Torsion-box understructure resists body twist and enables the truck to deliver 45,000 foot-pound lifting moment at full 100% capacity rating throughout the lifting zone.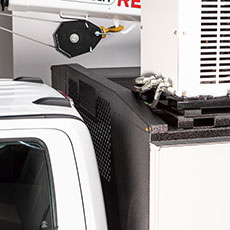 Headache Rack
Reading RM crane body includes a headache rack that protects the cab with a powerful, professional appearance.    Headache rack is integral and welded to the body.   Includes laser-cut window cutouts for visibility, and lights installed on the chassis.  Provides mounting locations for on-body work lighting and marker lighting, and allows wiring not to protrude into the tank compartment.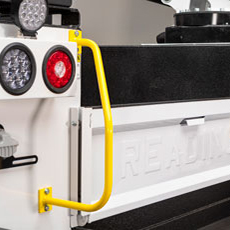 Safety Grab Handles
Reading RM crane body delivers three points of contact, to make it easy to climb in and out of the rear of the truck. Rear grab handles are generously sized, ergonomically placed, and included as standard equipment. Used in conjunction with our standard bumper steps, they help make the workday safer and easier.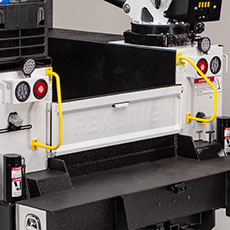 Work Lighting
Optional ultra-bright LED swiveling 4,500 lumen lamps. Set of 4 per body – 2 on rear, 2 on headache rack.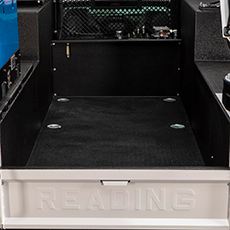 Treadplate Surface – Cargo Area
Cargo area floor, bed walls and tops of the side compartments are furnished in treadplate for durability.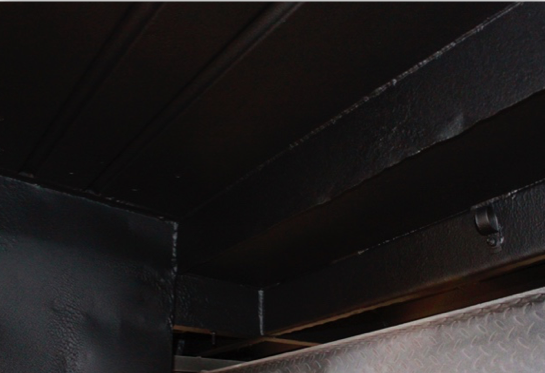 Rubberized Undercoating
Automotive grade rubberized undercoating provides superior protection against foreign matter damaging the understructure of the body.